Investmentz mobile¶
RecommendedFund¶
By clicking on Recommended Fund, you can view funds which are recommended by the ACMIIL research team with detailed information i.e NAV, Returns, SIP/Lumpsum etc. Further when you click on fund you will land on overview screen.
Overview¶
Here you will get information related to returns based on 1yr to 5 yr, AUM, Expense ratio, Fund manager name, Inception date, Sharpe ratio etc.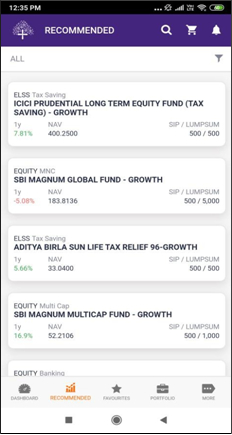 &nbsp&nbsp&nbsp&nbsp&nbsp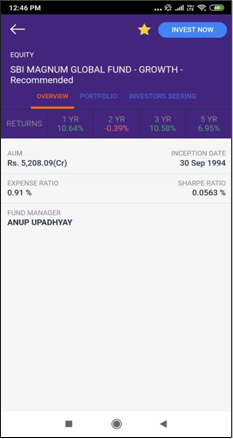 Portfolio of Fund¶
By clicking on portfolio you will land on portfolio screen & you can view the portfolio of that scheme wrt % of net asset. By clicking on sector you can view sector wise allocation wrt weightage in terms of %.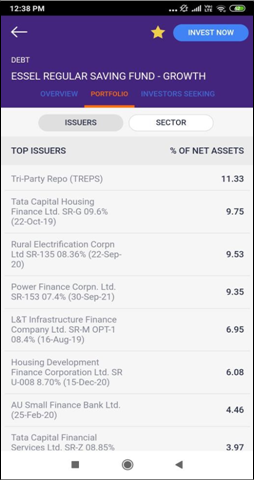 &nbsp&nbsp&nbsp&nbsp&nbsp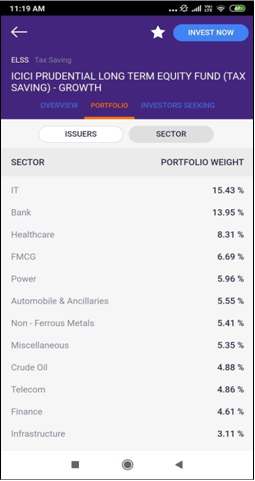 Investor Seeking¶
When you click on investors seeking, a Riskometer pictorial depiction of the risk profile of a mutual fund scheme will be shown. It shows the level of risk associated with that scheme. The Riskometer consists of 5 levels: low, moderately low, moderate, moderately high, and high.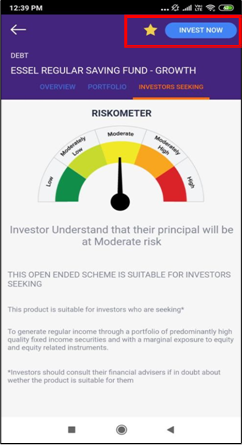 &nbsp&nbsp&nbsp&nbsp&nbsp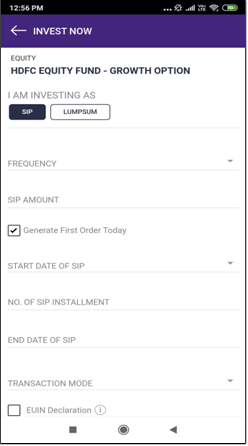 At top of screen When you click on star mark, your scheme will get added in Favourites. And by clicking on invest now you will land on Invest now screen where you can place the order.