Investmentz mobile¶
More¶
By clicking on More, a menu bar will be displayed.
1. NFO - By clicking on NFO you can check all the NFO's listed.
2. Transactions - You can view the transaction history of Mutual fund till date
3. My Profile - You can view the profile details on this screen i.e Name, address, mobile number, nominee & bank details etc
4. Add Money - By clicking on add money you can add fund to your account.
5. Contact Us - You can contact ACMIIL by calling our Customer Care on 022-2858-4444 OR Write your grievance or query on customerservice@acm.co.in
6. Back to equity - When you click on back to equity you will land on trading screen i.e Dashboard
7. Signout - You can signout from the app by clicking on Signout.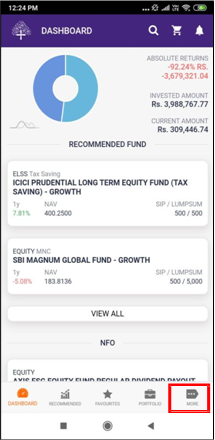 &nbsp&nbsp&nbsp&nbsp&nbsp