INVEST IN NON CONVERTIBLE DEBENTURES
NCD investment is fast becoming a great investment avenue, especially for risk-averse investors looking for risk-free options of capital appreciation. This is how NCD investment in India happens. Let's assume a company is seeking funds worth Rs.100 Cr. It will issue 10 lakh non-convertible debentures of the face value of Rs.1000 each.
Thus, in this case, as an investor, you will pay Rs.1000 to the company to buy a single debenture. This is called the principal amount. Every NCD is issued for a fixed period of time, during which the company pays you a fixed interest monthly, quarterly, annually, or a cumulative payment at maturity. The company will pay back the principal to the investors at the end of the tenure along with the interest accrued
BENEFITS OF INVESTING IN NCDS
Indian investors are always on the look-out for upcoming non convertible debentures. Some of the top benefits of investing in NCDs include: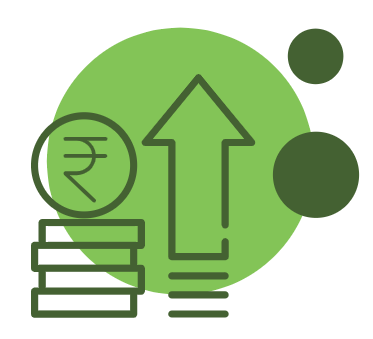 High security
Competitive returns
Wide choice of options
Good payout options
High liquidity
No TDS
(Note: The rate of interest earned on NCD is taxable. As there is no tax deducted at source (TDS) deduction in NCDs, on sale or maturity the amount of return (if any) gets clubbed in the income of the investor as "income from other sources" and taxed at the applicable income tax rate. Some NCDs from select Navratna PSUs are declared upfront as Tax free. In such issuance, the interest earned by investor is 100% tax free )
The current NCD market in India has been buzzing in the past six months with some great schemes hitting the bourses. Some of the latest NCD issues include Tata Capital Housing Finance, Shriram Transport, L& T finance ,ECL finance etc.
How to buy NCD online? This is a big question that would come to every investor's mind. However, given the amount of online trading that happens in today's day and age, the great news for all those looking to invest in NCDs is that you can also buy NCD online.
All you have to do is to buy it from a registered trader or broker using their online broking platform by opening an investment account with that broker. Brokers provide you with user-friendly NCD investment options to choose from.
* Tax benefit is for indicative purpose only and it is based on the input provided by the user and may vary based on the inputs provided by the user. Tax slabs are assumed to remain same. Tax benefit is calculated considering that the income is chargeable to tax at the highest slab at 30.9% and the minimum investment in NPS of 50,000 per year. The calculations are made on the assumption that the conditions mentioned in the relevant sections of the Income Tax Act, 1961 are fulfilled. Tax laws are subject to amendments from time to time. The information contained in this calculator does not constitute legal advice or tax advice and users are further advised to consult their tax advisors before making any decision or taking any action. It is clarified that the company will not be responsible for any loss or damage to any one, of any kind, in any manner arising from the action taken based on this calculator.